The holidays are a time of giving, but let's face it—sometimes finding the ideal gift for someone can be challenging. Thankfully, the EarQ Shop has something for everyone, including products in the following categories: batteries, hearing aid care, assistive listening, hearing protection, and tinnitus. Check out our list of last minute gifts! (And maybe pick something up for yourself while you're at it.) In the spirit of giving, many items are currently on sale!
A great gift for music lovers, the ER20 Ety-Plugs are high-fidelity earplugs that reduce dangerous noise by up to 20 decibels! Most concerts far exceed 85 decibels, which is the safe limit for listening, so it is essential that concert goers wear some form of hearing protection. While other earmuffs and earplugs can muffle sound, the ER20 Ety-Plugs provide safe listening without sacrificing sound quality.
Are you shopping for someone who can never seem to get out of bed in the morning? The Sonic Boom Alarm Clock can wake even the heaviest of sleepers with a wide range of volume levels and even an attachable bed shaker! (This might be the perfect gift for the teenagers in your family.)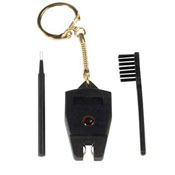 This small and portable hearing aid maintenance kit is a great stocking stuffer for hearing aid wearers. It includes a wax removal tool, cleaning brush, and battery tester that can attach to a keychain for ultimate convenience.
If you have a baby in the family, it can be difficult to find the right gift. You could get them another toy that lights up and sings, or you can make an investment in their hearing health! With a flexible headband and foam insulated earmuffs, EM's 4 Bubs are specially designed to fit babies comfortably, so they can go with their parents to concerts, sporting events and more without damaging their hearing.
If you are getting toys for any children this Christmas, make sure it's not on the noisy toys list!
The Sound Pillow Sleep System is perfect for those with tinnitus (ringing in the ears), or those who like to fall asleep listening to music. The hypoallergenic pillow has speakers on the inside, and can connect to any mp3 player to play soothing sounds or the music of your choice. It also comes with prepared with tinnitus-relieving tracks to soothe the ringing!
To browse more gift ideas, check out the complete EarQ Shop Gallery!