Local EarQ providers attended the 2016 Legends Conference to help educate members of the National Basketball Retired Players Association (NBRPA) about hearing health and why it is a priority.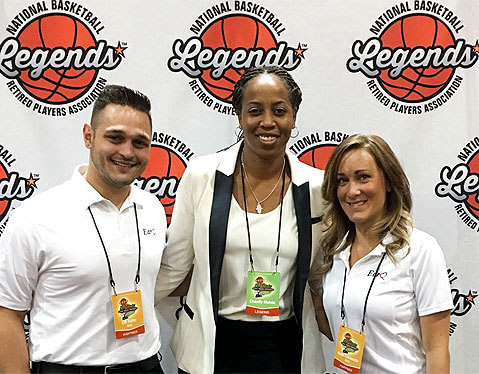 From July 17 to 19, the 2016 Legends World Sports Conference took place in Las Vegas, NV. The conference is designed for former pro players—such as members of the NBRPA—to network, learn about more ways to be active in the community, and discuss life after their playing career. Because hearing health is a relevant issue for retired players, EarQ assembled a team of representatives and hearing healthcare professionals to attend the conference.
EarQ is an independent network of hearing healthcare providers, and the official hearing healthcare provider for the NBRPA. Several of these providers came to Las Vegas to perform hearing screenings and hearing aid fittings, and answer any questions former players may have about hearing health.
While more than 36 million people in the United States have hearing loss, studies show former professional athletes experience it at a higher rate. Left untreated, this loss can negatively impact an individual's social and professional life.
"People are aware of their hearing loss for an average of seven years before they decide to treat it," said Ed Keller, President of EarQ. "If we continue to educate former professional players on this pervasive issue, they can feel empowered to take control of their own hearing health and spread awareness."
EarQ also works with other organizations such as the NFL Players Association's Professional Athletes Foundation to bring better hearing to former pro athletes and discuss preventative measures for future athletes. Through enriching events like the Legends World Sports Conference, EarQ continues to make hearing healthcare a priority for athletes nationwide.
---
About The National Basketball Retired Players Association
Founded in 1992, the National Basketball Retired Players Association (NBRPA) is a non-profit association comprised of former professional basketball players of the NBA, ABA, Harlem Globetrotters, and WNBA. Its mission is to assist former NBA, ABA, Harlem Globetrotters and WNBA players in their transition from the playing court into life after the game, while also positively impacting communities and youth through basketball.