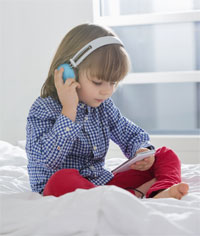 According to a recent study by the American Speech, Language and Hearing Association (ASHA), almost 12% of children between the ages of 6 and 19 have noise-induced hearing loss. This public health issue is believed to be due in large part to the volume and frequency that children, as well as adults, are plugged in to their iPods and other MP3 players.
As many people incorrectly assume that hearing difficulties only develop later in life, they don't think twice about blasting their favorite songs while going about their day. However, noise-induced hearing loss can affect anyone of any age. In most cases, it occurs gradually after consistent exposure to sounds over 85 decibels, about the level of a hair dryer or lawnmower. †Scientists believe noise-induced hearing loss damages the delicate hair cells that sit within the inner ear, causing a disruption in transmitting sounds to the brain. Once they are damaged, hair cells cannot naturally regenerate in humans.
In order to protect against further hearing loss, one can limit the time he or she spends listening to music with their headphones, keep the volume at a lower level, and wear hearing protection while in loud environments.
Learn more about hearing loss in children.
†
Last updated: March 26, 2014.