EarQ joins the Starkey Hearing Foundation to raise funds for mission trips, celebrate the year's accomplishments, and honor distinguished philanthropists across the globe.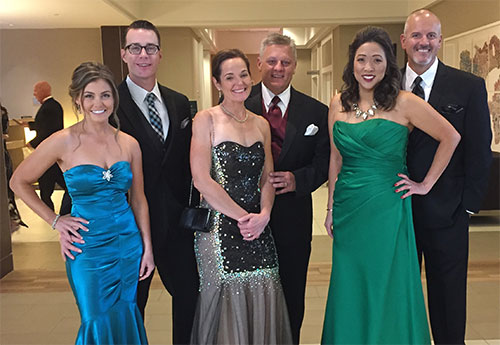 From July 16–17, EarQ attended the Starkey Hearing Foundation's 2016 The World May Hear Awards Gala in St. Paul, Minnesota. The annual gala honors individuals whose advocacy and achievements improve the lives of others around the world.
This year's honorees included actress, Jennifer Garner, for her advocacy for early childhood education, former Prime Minister, Tony Blair, for his collaboration with governments in African countries, and Paula F. Golberg, for creating valuable resources for people with disabilities. Noteworthy supporters such as Jay Leno, Johnny Depp, and John Mellencamp were also in attendance. Previous galas have included former President Bill Clinton, Katy Perry, Ashton Kutcher, Kristi Yamaguchi, and Barbara Bush.
As a company dedicated to spreading awareness and education about hearing loss, EarQ values humanitarian endeavors and those who make them possible. Through The HearStrong Foundation—EarQ's not-for-profit organization—EarQ aims to shatter social stigmas and radically challenge the general perception of hearing healthcare in our society. The foundation also celebrates outstanding individuals with hearing loss with the goal to spark a mass hearing healthcare awareness movement.
The Starkey Hearing Foundation exemplifies this philosophy. Its annual gala is not only an occasion to recognize charitable actions, it is also an opportunity to raise money for the foundation's ongoing mission trips that bring the gift of better hearing to people all around the world. In October 2015, representatives of EarQ joined Starkey's mission in Peru where they helped nearly 19,000 people experience better hearing.
EarQ is proud to partner with the Starkey Hearing Foundation and honored to participate in such a special event that aligns with its own mission to transform the lives of others.
"Our goal is to improve lives through better hearing, and we have worked hard to build relationships with people who have an important global impact," said Ed Keller, President of EarQ. "With a network of dedicated individuals, we can continue to inspire great change."
---
About Starkey Hearing Foundation:
The Starkey Hearing Foundation uses better hearing as a vehicle to change the world. Since 1984, the organization has been improving the lives of individuals worldwide by providing hearing healthcare to those in need.