EarQ's Hearing Education & Discount Program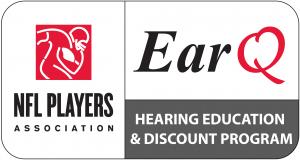 It wasn't too long ago that you were on the field looking and feeling your best. Studies show that hearing better improves your quality of life, earning potential,1 and communication. EarQ's hearing education and discount program helps you get back to feeling your best with modern hearing solutions.
Today's Hearing Aid Solutions Can:
• Connect to phones, televisions, stereos, and other wireless devices
• Learn your personal sound preferences
• Adjust sound settings based on the environment
• Utilize a feedback management system (eliminates whistling/squealing sounds)
• Utilize a tinnitus (ringing in the ears) therapy system
• Be nearly invisible
You can depend on EarQ's advanced hearing aid solutions along with straightforward educational materials and access to a nationwide network of hearing healthcare professionals. However, you can expect much more from this program.

Full Discount Program Benefits:
• 40% off EarQ suggested retail prices
• America's best hearing aid warranty
- 4 years of service and repairs
- 4 years of cleaning and adjustment
- Service available at any EarQ provider nationwide
• The best technology available to fit every lifestyle and hearing loss need
• 50-day satisfaction guarantee
• Annual hearing screening
• Access to a nationwide network of over 1,400 hearing healthcare professionals
EarQ providers are professionals who are highly skilled and dedicated to helping you hear better. Every provider works diligently to provide the highest quality of care and hearing aid technology in the industry.
To learn more, call EarQ at 800-338-0714.
1Kochkin, Sergei. "The Impact of Untreated Hearing Loss on Household Income." August 2005. PDF file.