Representatives from EarQ joined the NFL Players Association (NFLPA) during pre-game activities in Phoenix, AZ to further their joint commitment to providing NFLPA members with outstanding hearing healthcare services.
Phoenix, AZ (February 3, 2015)—Before the big game on February 1, two other teams, EarQ and the NFL Players Association (NFLPA), joined forces in Phoenix to advance their mission to drive hearing healthcare awareness to new heights.
For the third consecutive year, representatives of EarQ, including select providers from Gold Canyon, AZ, State College, PA, and San Gabriel, CA, joined the NFLPA at exclusive pre-game activities on January 29 through February 1 to further solidify their dedication to providing NFLPA members greater access to quality hearing healthcare services.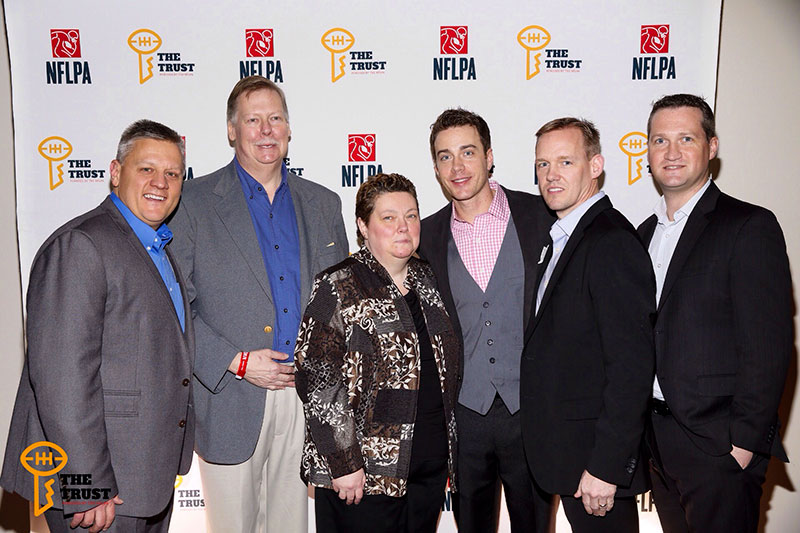 [From left: Ed Keller, president of EarQ, James Uhring, Elise Uhring, Au.D., Clifford Carey, communications director for EarQ, Jason Olson, director of sales for EarQ, and Chris Fraser, Business Advisor for EarQ]
EarQ has been a member discount program provider for the NFLPA since 2011.
"We are extremely proud of our partnership with the NFLPA in service of their members," said Clifford Carey, communications director of EarQ. "It's rewarding to see our program become a model on which new relationships base success.  The NFLPA Former Players and Professional Athletes Foundation have done a tremendous job in growing their service offerings and their members are responding to the programs -like our hearing education and service package- with energy and enthusiasm.  We are excited to grow alongside this organization to empower more people to address their hearing difficulties."
About the NFL Players Association
The National Football League Players Association (NFLPA) is a non-profit, professional sports union that protects the best interests and welfare of all NFL players. It serves as the exclusive bargaining agent for all NFL players in collective bargaining. Established in 1956, the NFLPA has a long history of assuring proper recognition and representation of players' interests.
The NFLPA is governed by a Board of Player Representatives, acting in accordance with the NFLPA Constitution and federal labor laws. The NFLPA's responsibilities include: Representing all players in matters concerning wages, hours and working conditions and protecting their rights as professional football players; ensuring that the terms of the Collective Bargaining Agreement are met; negotiating and monitoring retirement and insurance benefits; providing other member services and activities; providing assistance to charitable and community organizations; enhancing and defending the image of players and their profession, on and off the field.
For more information, visit www.nflpa.com.